Electronic Instructions For Use (eIFU)
Selected LASAK products are now being supplied without printed Instructions For Use (IFU). Instead of unattractive, difficult-to-read, and non-user-friendly paper instructions, we have implemented the Electronic Instructions For Use (eIFU) system for you.
Any time, without restrictions
On the new ifu.lasak.com portal, you can easily search, view, download or print the current version of the IFU. Previous versions of these documents can also be accessed. At any time, without restrictions, all you need to obtain the IFU of a particular medical device is its reference number (REF).
How to recognise products with an eIFU
The transition to electronic Instructions For Use and package leaflets is being phased in gradually. Therefore, you may still encounter products that contain a package leaflet or Instructions For Use (IFU) in paper form, whilst other products may no longer contain them. The existence of a product eIFU is indicated by a symbol on the product label, as shown below.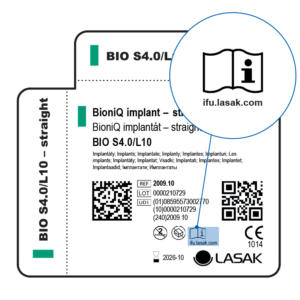 An Electronic Instructions for Use (eIFU) is issued for products that have this symbol on the label
Electronically and ecologically
This change to electronic Instructions For Use saves several tonnes of paper each year that would have been used for printed leaflets and instructions for use. By reducing the amount of paper, we consume, we will help to protect the environment.
A Final Tip
The Commission Implementing Regulation (EU) 2021/2226 of 14 December 2021 laying down rules for the application of Regulation (EU) 2017/745 of the European Parliament and of the Council as regards electronic instructions for use of medical devices allows manufacturers to only provide instructions for using medical devices in digital form. However, if you still need the IFU in printed paper form, we will be happy to send it to you, free of charge, within seven calendar days. You can easily request a specific document directly from ifu.lasak.com, or you can contact us by email or phone.