Implantologie
Hoher marginaler Knochenerhalt mit Implantaten BioniQ®
Als sehr wichtiger Faktor, der die Zufriedenheit der Patienten nach der Implantatinsertion beeinflusst, werden gute Funktionsfähigkeit und optimale Ästhetik betrachtet. Eine natürlich aussehende Ästhetik sichert die Stabilität des Alveolarknochens im Einklang mit der physiologischen Dimension der Weichgewebe (biologische Breite). Dies kann nur unter solchen Umständen erreicht werden, wenn das Implantat, die Suprakonstruktion und der Zahnersatz im vollständigen Einklang funktionieren.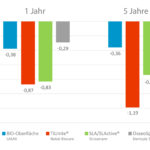 Es wurde eine Meta-Analyse1 veröffentlicht, aus der sich ergibt, dass es einen statistisch signifikanten Unterschied zwischen Premium-Implantatoberflächen gibt. Der Vergleich der Meta-Analyse mit den Ergebnissen von Studien der Implantate BioniQ® 2, 3 bestätigt, dass die bioaktive BIO-Oberfläche von den Implantaten BioniQ® den neuesten Trends entspricht und zu den Premium-Marken gehört. Quellen.
Hohe Festigkeit der Verbindung Implantat-Aufbaupfosten (die unabhängige Vergleichstudie – ISO 14801)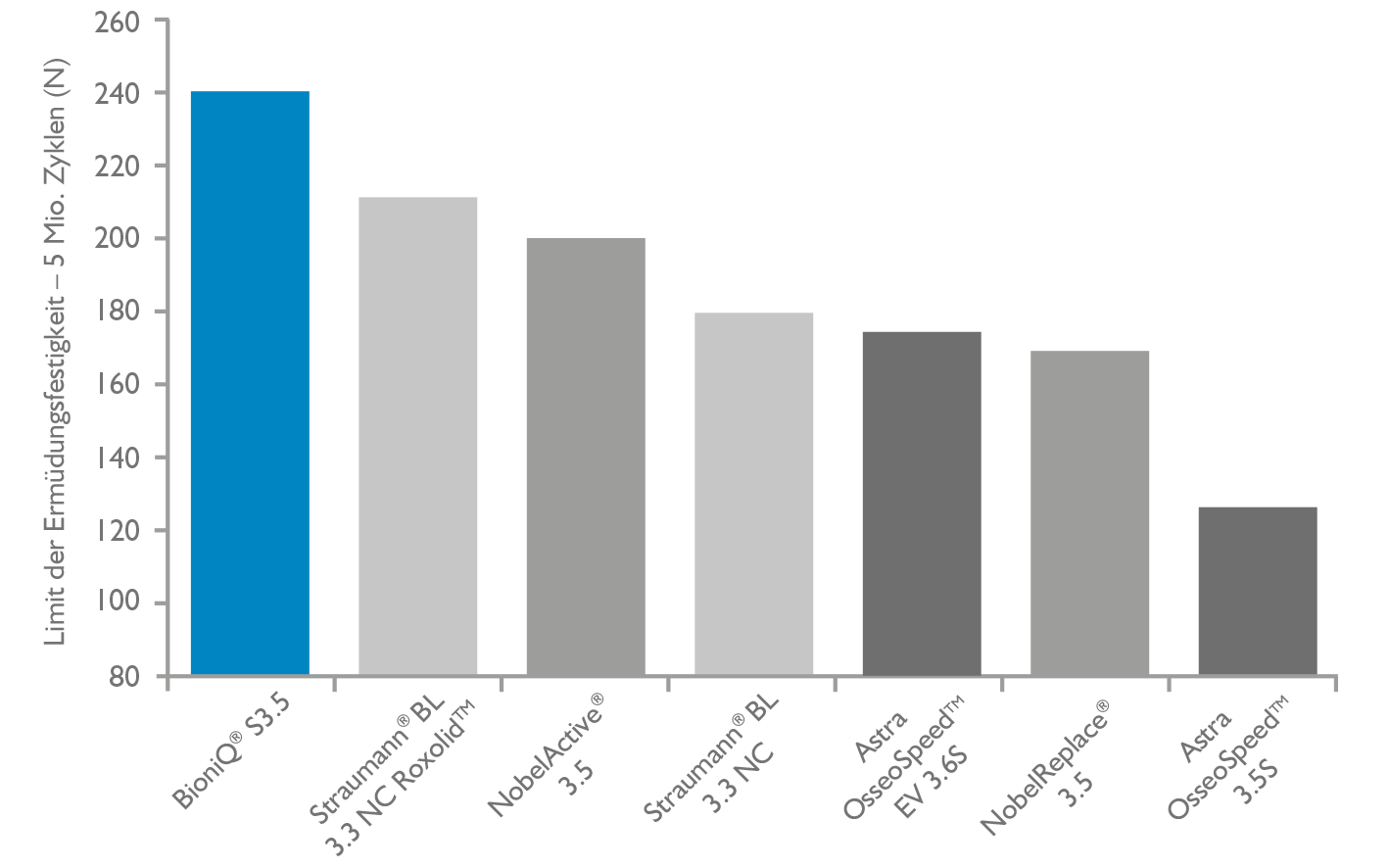 Bei der Festigkeitsprüfung wird die Beanspruchung des Implantates und des Aufbaupfostens durch die Kinematik beim Kauen gemäß ISO 14801 überprüft. Fünf Millionen Kauzyklen, die bei der Prüfung der Dauerfestigkeit der Verbindung von Implantat und Aufbaupfosten simuliert werden, entsprechen ca. 20 Jahren natürlicher Belastung des Implantates im Mund. Quellen.
Klinische Studien auf Englisch
Klinische Studien auf Englisch – Kurzfassungen
Experimentelle Studien auf Englisch
Experimentelle Studien auf Englisch – Kurzfassungen
Quellen zum Graph "Hoher marginaler Knochenerhalt mit Implantaten BioniQ®"
The Influence of Implant Surface on Maintenance of Marginal Bone Levels for Three Premium Implant Brands: A Systematic Review and Meta-analysis; Norton, MR, Astrom, M: Int J Oral Maxillofac Implants 2020;35(6):1099-111.
Marginal bone response of submerged and non-submerged osteoconductive alkali-etched implants in thick and thin biotypes: A 2-year clinical follow-up study; Novak Z., Strnad J., Nesvadba R., Kamprle J., Strnad Z.: Int J Oral Maxillofac Implants. 2019;34(5):1184-1194.
The influence of biological width violation on marginal bone resorption dynamics around two-stage dental implants with a moderately rough fixture neck: A prospective clinical and radiographic longitudinal study; Strnad J., Novak Z., Nesvadba R., Kamprle J., Strnad Z.: Int J Dent & Ora Hea 2021; 7:6, 20-36.